ABOUT US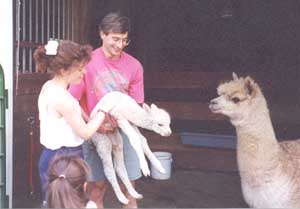 click for larger image

Lou grew up on Long Island, NY (suburban Americana), and Melissa in Bethany, CT (rural country). Lou had a few cats and birds while spending leisure time catching fish and frogs. Melissa helped her family raise numerous animals on a small scale (eg. Horses, cows, pigs, turkeys, dogs, cats, etc.). Family trips to game farms where feeding and petting various animals drew our hearts, as children, to llamas.

We met in Connecticut in 1988 and began dating. During this time, we subscribed to Llamas magazine, visited local llama farms, and attended regional llama events. It was at one such event sponsored by GALA (Greater Appalachian Llama Association) in Killington, VT that we saw our first alpacas. We immediately fell in love with these cute, woolly, compact sized camelids. When we learned of their rarity in the United States and hence their value, we knew it would be quite sometime before we would own our own.

At our wedding in 1990, we had alpaca figurines at the top of our wedding cake. Our honeymoon encompassed over three weeks in Australia and New Zealand where we included trips to alpaca farms.

When we returned home, we began looking for a home in rural Connecticut and finally in 1992, we settled into a small farm. We then added two children to our lives- our daughter, Austin, was born in 1993 and our son, Jesse, in 1996. During this time, we continued to attend numerous alpaca events, visited farms, held committee positions on regional associations, and did extensive research on the industry. We became members of AOBA, NEAOBA, and MARICO (a llama and alpaca association no longer in existence). Soon we began to realize that our hearts were definitely with alpacas and we finally found a first United States generation Peruvian, fawn colored female that was everything we had dreamed of. Along with her we obtained an 8 month old full Peruvian male and a male gelding.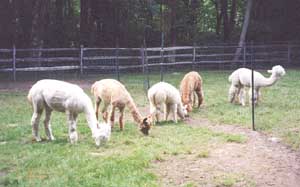 click for larger image

Today, we have grown to a herd which averages 15 alpacas and Melissa is operating the business on a full time basis. Our love for these amazing animals continues to grow every day and now our children are involved in their care and training. It truly is a wonderful life!