WORKSHOPS AND SEMINARS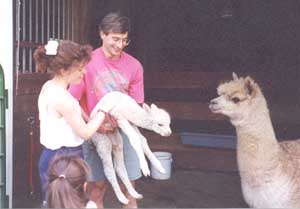 click for larger image

Making the decision whether or not alpacas can be part of your future is a huge decision for most people. Whether you are thinking about owning them as fiber animals or looking into alpacas as a business venture, you should know all of the ins and outs of the industry before making your decision. Although we feel we are always learning ourselves even after more than a decade in the alpaca industry, we feel it is both our responsibility and it is our desire to share what we know with all who are looking to raise these wonderful animals. We have sadly watched many new owners make impulsive decisions or were given an "offer they couldn't refuse" from other breeders only to be greatly disappointed for many reasons once taking possession of the alpacas. If buyers are informed and educated when making their purchases, this is a wonderfully rewarding experience that will bring years of happiness and success their way.

Several years ago, we started offering seminars and workshops several times throughout the year to assist folks in making many of the decisions needed in pursuing alpacas. Our "Alpaca 101" seminar is designed for people who have not previously come to our farm for a scheduled visit. We cover many topics including barns, fencing, feeding, supplies, fiber quality versus breeding stock, medical needs, daily care…basically any topic that gives people an idea of what it takes to raise alpacas. If we have not scared someone off by this point, they are invited to attend our "Alpaca 102" seminar. This is a more in depth seminar which consists of a detailed discussion of choosing the right alpacas for your business plan, succeeding as a small farm, and allows attendees to ask specific questions about setting up their individual farm. We then spend hands on time outside with the alpacas demonstrating haltering, leading, trimming toenails, examining teeth, administering medication/injections, and any other related management topic of interest to those attending.

We encourage you to check our Calendar of Events for upcoming seminars or contact us to schedule a personal visit. We look forward to helping you make your decision about alpacas.