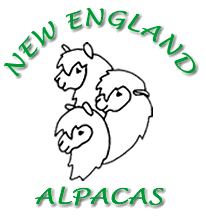 Raising alpacas since 1996, we, along with our two children, Austin and Jesse, have proven that you can operate a small alpaca breeding business and be very successful. Our own herd consists of some of the finest quality full Peruvian and Peruvian/Bolivian huacaya crosses in the country. We spent years dedicated to the growth of the alpaca industry especially in southern New England where, for the last 27 years, we assisted dozens of families just like ours achieve the dream of alpaca ownership. We pride ourselves on the time spent with our customers and matching families with the alpacas that are suitable for their business or personal goals. Mentoring is of the utmost importance and we provide support in all forms of husbandry so that our clients are comfortable knowing how to care for the day to day needs of their alpacas.

We have made the difficult decision to sell our farm property and 'retire' from the day to day, hands on farming. Although we will miss caring for these wonderful animals on a daily basis, we will still keep New England Alpacas alive and thriving as we will continue to co-own several alpacas who reside at other farms in the state.

Most importantly, we will continue to provide customers with the finest alpaca products which we hope is a relief to our many dedicated repeat customers we have had the pleasure to serve for over 2 decades. Customers can continue to shop for our products from the comfort of their own home by shopping our online store using the link on our website. We ship most orders within 2 days. Residents of Killingworth, Madison, Clinton, Durham, Haddam/Higganum, and Guilford can opt to save on shipping costs and we will schedule drop off delivery or safe meeting options. Our calendar of events page will have the dates and information of what events we will be attending for those who enjoy shopping in person.

Our family is so grateful for the wonderful relationships we have formed with customers over the last 27 years and are thankful for their continued support. It truly means everything to us and our animals. We hope to add new friends and customers and hope you will someday be one of them!

With gratitude,

Lou & Melissa Ferrara
This page was last updated Wednesday, 22-Nov-2023 17:03:19 EST.
---
This site is designed and hosted by:
Dog Bone Designs
Waldoboro, ME
If you have any comments about this site send us an
email